The End Of The Dungeon
14 November 2018
The End of The Dungeon: 
Please join us this Sunday, November 18th from 12-8pm to celebrate SECRET DUNGEON'S 2-year run as well as the closing of Dana Buhl's Technical Comfort.
We will be celebrating with a drink and a bite and video screenings of works by Nash Glynn, Emily Shanahan, Eduardo Restrepo, and Elise Rasmussen; dances by Niki Farahani + Annie Heath, and MOLLY & NOLA; and with music by THREE (Cati Bestard, Ivan Forde, Anna Rivera, and Meg Turner).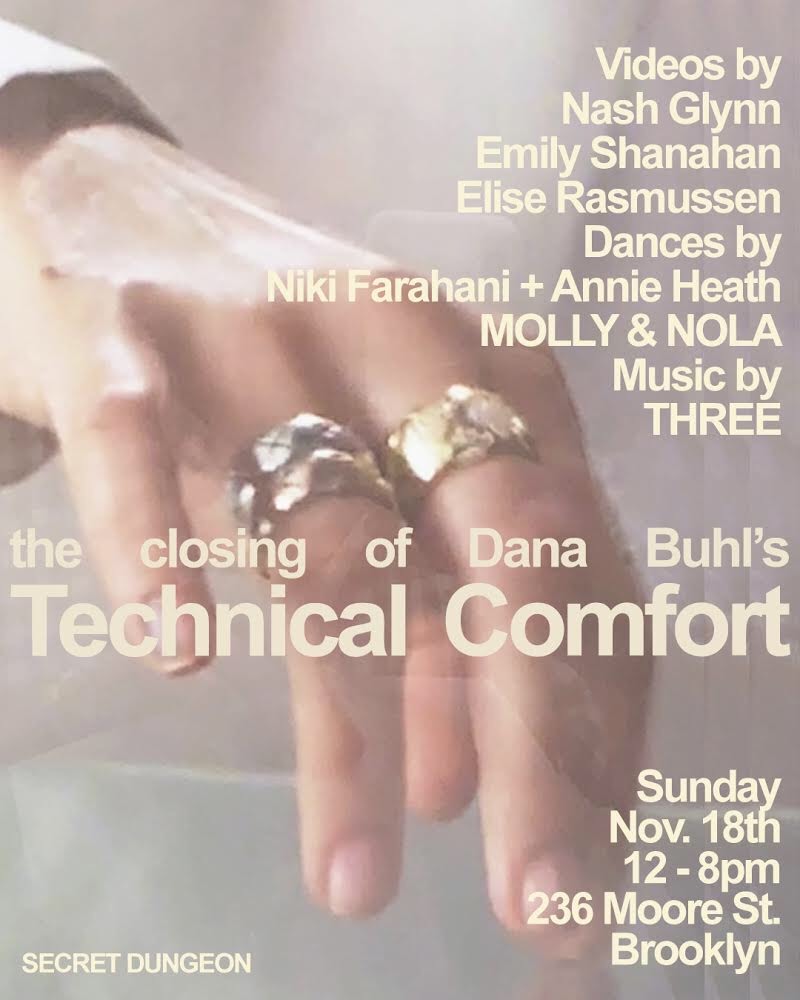 ---
SCHEDULE:
12:00 – 01:00      Niki Farahani & Annie Heath
01:00 – 02:00     MOLLY & NOLA
02:00 – 02:45     Film Screening: Nash Glynn, Emily Shanahan, and Elise Rasmussen
03:00 – 04:00     Niki Farahani & Annie Heath
04:00 – 06:00     MOLLY & NOLA
06:00 – 07:00     Roberta's Pizza Dinner
07:00 – 08:00     BAND!
---
MOLLY&NOLA is a collaboration between choreographers and performers Molly Ross & Nola Sporn Smith. Our work exposes what lurks in our subconscious, particularly within a relationship—what we keep private, and what we can't hide. We view our collaboration as a kind of endless sleepover, an absurd midnight landscape at your best friend's house… It's dark outside, and the room that you're in feels like the entire world. We create spaces for fantasy and delusion, riding the waves of humiliation, absurdity, queerness, tenderness, and vulnerability that make up an intimate female relationship.
---
The long-standing collaborative duo, Niki Farahani and Annie Heath, present their bodies in light and shadow within the Secret Dungeon. Responding to natural and built environments, we reveal human dynamics—and the hierarchies therein—through mobile bodies and shifting landscapes. Our work is influenced by still images; we see movement and emotional sensations in these "static wholes." This particular iteration is a study on distance, in all senses of the word. Audience members are invited to wander, digest, and contribute to this experimentation over time.
---
Film Screenings:
Nash Glynn, Lover Earth, 2016
Elise Rasmussen, "Did You Know Blue Had No Name?" explores epistemological aspects of "blueness" through various historical narratives, examining the relationship between the color blue and mountaineering, early photographic technologies, art history and how knowledge is ascribed and recorded. This essay-style video weaves together histories of blue alongside a narrative referencing (among others) eradicated feminist histories and indigenous knowledge systems, commenting on issues of [in]visibility, innovation, conquest and the contest.
Emily Shanahan, The video Siri Alexa Cortana (Work Songs) addresses technology and gendered labor though the emergence of digital voice assistants. Combining animated sequences, found footage, and scripted scenes, the work explores the use of the female voice in practices of data mining and mechanized labor.
Eduardo Restrepo, la llamada
---
Music Performance:
THREE
An art chaser…
Cati Bestard, Ivan Forde, Anna Rivera, and Meg Turner